Open Mornings at Ruckleigh
Our next Open Morning will be Saturday 28th September 2019 from 10:00am to 12:30pm.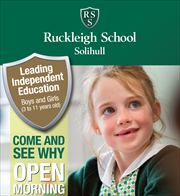 Open Mornings offer a unique opportunity to access all areas of the school, meet the staff and familiarise yourself with the layout and grounds.
Booking is not necessary and families are welcome.
If you are unable to attend our Open Morning you can alternatively make appointments to visit Ruckleigh School on a normal working day, please visit our School Tours for more information.