Open Morning at Ruckleigh
On Saturday 1st October 2022 and Saturday 28th January 2023 between 10am - 12:30pm, come along and see for yourself why Ruckleigh is such a fantastic school, catering for boys and girls aged between three and eleven years old.
Our school is an inspirational, joyful learning environment where children have been given the opportunity to shine brighter, reach higher, and go further for over a century.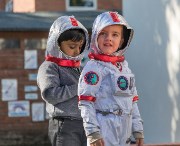 We are unashamedly academic, and recognise the importance of examinations. Our children routinely achieve outstanding results and scholarships into the region's top selective grammar and secondary schools. This years' Year 6 excelled, achieving 22 Academic Scholarships and an outstanding 23 Grammar School passes!
However, we are not an academic hothouse. We also passionately believe that the happiness of all of our pupils is key to that success afterall, happy children learn best.
We are proud to be the 'smaller' school in Solihull. Small creates an intimate, nurturing atmosphere where everybody is part of the family. Every child is known and individually taught to their strengths. Our small classes mean every child has space to grow and flourish as individuals. Small allows new ideas, technology, and teaching techniques to be introduced.
Joining Ruckleigh means you are not only a pupil at the school, you are part of a close-knit, caring family. The school itself is surrounded by a hidden garden with ancient trees, which lend an almost Narnian magic to break times and are supplemented by play areas aplenty.
From the classroom to the playground, the spirit of generosity, kindness and respect for others shines through in every setting, and the happiness of all our pupils is clear to see.
No child should be defined by academic performance alone. At Ruckleigh all talents and passions are celebrated. Sport, music, arts and drama provide a wealth of opportunities to explore.
Whichever activity our pupils enjoy, they provide immeasurable opportunities for children to develop their character.
A traditional preparatory school with modern methods and outstanding success.
Rated 'excellent' in all areas (see Independent Schools Inspectorate, May 2019) we are immensely proud of our proven track record of entrance examination (including 11+) success year on year.








However, we are more than this and here at Ruckleigh we believe it is equally important to offer pupils a rich and varied educational experience.
Join us at our Open Morning to see what makes Ruckleigh School so very special.
Our next Open Mornings will be on Saturday 1st October 2022 and Saturday 28th January 2023 between 10am - 12:30pm. No booking is necessary.
Open Mornings offer a unique opportunity to access all areas of the school, meet the staff and familiarise yourself with the layout and grounds.
Booking is not necessary and families are welcome.
If you are unable to attend our Open Morning you can alternatively make appointments to visit Ruckleigh School on a normal working day, please visit our School Tours for more information.